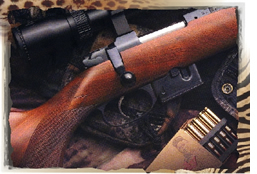 A lot of clients don't want to risk it to travel with his rifle and especially if they are traveling through Europe and other gun-free countries. Then there is the option of renting a gun from us. This make a lot of sense especially when you are traveling with your family and doing site seeing on the same trip.
Recommended Rifles
Plains game:
.270 or larger rifle is required by law.
Dangers game: (big 5)
.375 or bigger rifle is required by law.
You are allowed to bring two hunting guns one shotgun per person.
You are allowed to bring 100 rounds of ammunition per rifle.
You are not allowed:
Handgun
Automatic rifle
Semi-automatic hunting rifle
Rifle permits:
For all enquiries visit PHASA website: www.professionalhunters.co.za
for all the latest on any rifle permits.